Just Got A Ton Of Chuey Caps in! Winter Style Ones Too!

Park Grounds Is Hosting Nophest The Weekend Before The Thrash/N/Mash. We Will Be Putting On A Closed Course Demo Race Around The Block. Hopefully A Prize Can Be Dug Up Otherwise It'll Be A Cash In Pot To Bring Some Heat Into It. We're Going Fixed Only On This One As Well. Only So Many People Are Going To Be Able To Race At Once We're Thinking Ten To Fifteen Per Round. We Don't Know How Much Time We'll Be Given, So Hit Us Up Soon If You Are Serious About This. The Question Now Is Who Will Be Filming?

Speaking Of Which, We Just Finished The Wheelset Above To Be Awarded At The Thrash/N/MASH For 1st Prize! Thanks To Profile For The Recent Shout Out!
The Only Thing Close Can Be Found In RVA At Carytown Bicycle Company. So This Anodized Rim And Hub Combination Is Our Specialty One Of A Kind.

Ink & Dagger Is A Recent Addition To Our Growing List Of Sponsors! Our Friend Lloyd At Get This Gallery Is Helping Us Print Flyers Which Everyone Will Soon See Around The City!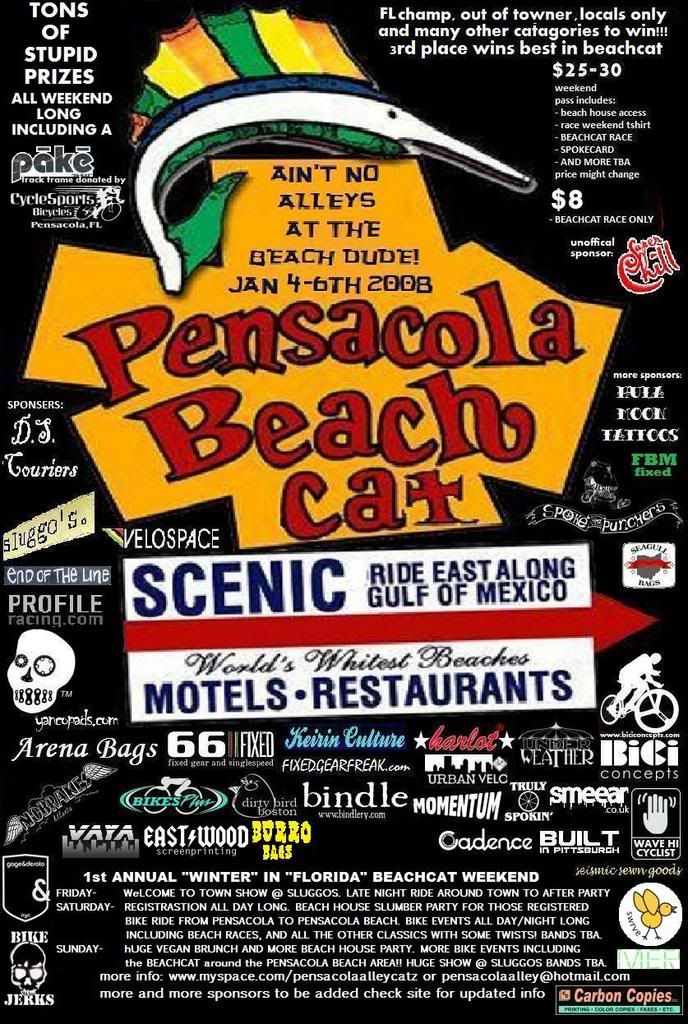 We are Also Sponsoring the Pensacola Beachcat! Looks Sick!
In Other News
-Goods From: Freight Baggage, R.E.Load and Fabric Horse incl. U-Lock Holsters and Utility Belts Are On The Way
-Custom Painted RB021's, B123AA's and Risers Courtesy Of Bobby Costello
– Heard Of This Race Courtesy Of Trackstar's Blog. Epic!
-No Brakes Has Our First Batch Of Cog Magazine In The Mail!
-We Will Be Closed This Thursday And Friday For Thanksgiving, See You Saturday.